Training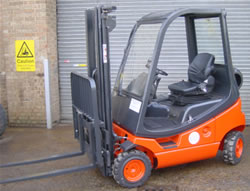 FORKLIFT TRUCK OPERATOR TRAINING
The need for expert training of truck operators is pressing. The number of accidents involving serious injury remains far too HIGH. The 1974 Health & Safety at Work Act Section 2 (2c) relevant to the training of lift truck drivers has resulted in prosecutions being made under the Act don't get caught out ???
What The Code Requires
1 Employers must ensure that all lift truck operators are adequately trained or have existing experience.
2 Employers must ensure that operation of all lift trucks is restricted to authorised operators only.
3 All new operators must undergo satisfactory basic training in accordance with the code from the 1st April 1989.