Hire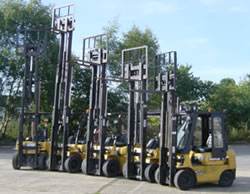 We have a very wide selection of very well maintained high specification forklifts ready for your immediate needs, whether for one lorry unload or a 5 year hire we have the forklift you need!
A high number of our forklifts are triple masted to allow for easy access to high lift racks of 5 metres or more but still be able to move under low doorways and mezzanine floors.
We also have some forklifts that we can fit fork positioners or fork rotators on.
All our trucks are ready for quick delivery and come with all the latest current safety certificates, operator safety book and pre-hire check list.
We also offer long term hire forklifts factory ordered for your exact requirements with all maintenance and service costs included.
We also offer forklift with driver hire for your one-off deliveries or collections. With trucks of capacities up to 7 tonnes, with our fully trained operators we will safely load or unload your goods.
If you know what your needs are or are unsure of your requirements please feel free to give us a call and we will assist you with your materials handling needs.