metresmetreNew Equipment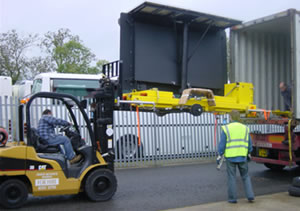 We are the official dealers for CESAB and NEXEN forklifts in the Sussex, Surrey and Kent areas.
We can also supply forklifts from other manufactures such as CATERPILLAR, TRANSLIFT BENDI and other brands.
We have various demo trucks available for trial, whether it is at our own premises or at yours for on-job evaluation.
We believe in supplying the right forklift for the right application.
NEXEN FORKLIFTS
Equipped with an extensive range of standard options, the Nexen range is offered in both LPG and diesel engine versions. This, along with a range of mast specifications and optional equipment, makes the Nexen forklifts the right choice to meet your material handling needs.
Mast visibility
The wide view mast and the load backrest design improves operator vision and this helps reduce product damage during travel and stacking operations.
Ergonomically Designed Cab
The entire compartment is designed with the operator in mind. This allows the operator to concentrate on the job in hand, ensuring less fatigue and greater driver comfort.
The adjustable steering column assures ample space and long hours of operation. The column is fully adjustable allowing the operator to select the most comfortable driving position.
There is also a memory position lever to allow the operator to quickly access the engine compartment but keep the current steering position.
One Piece Floor Plate
The one-piece floor plate is easily removed without any tools. This together with the one-piece hinged hood allows for easy access to the transmission and engine.
Transmission system
New automatic transmission helps reduce vibration, assists longer life and smoother operation.
Responsive Power Steering
Hydrostatic power steering gives responsive steering and precise manoeuvrability.
Models Available - Engine Range
1.5 tonnes - 1.8 tonnes range
Gas Models
FG 15 = 1500 kgs capacity
FG 18 = 1800 kgs capacity
Diesel Models
FD 15 = 1500 kgs capacity
FD 18 = 1800 kgs capacity
Lift heights
3 metres to 6 metres
2.0 tonnes - 3.5 tonnes range
Gas Models
FG 20 = 2000 kgs capacity
FG 25 = 2500 kgs capacity
FG 30 = 3000 kgs capacity
FG 35 = 3500 kgs capacity
Diesel Models
FD 20 = 2000 kgs capacity
FD 25 = 2500 kgs capacity
FD 30 = 3000 kgs capacity
FD 35 = 3500 kgs capacity
Lift Heights
3 metres to 7 metres
4.0 tonnes - 5.0 tonnes range
Gas Models
FG 40 = 4000 kgs capacity
FG 45 = 4500 kgs capacity
FG 50 = 5000 kgs capacity
Diesel Models
FD 40 = 4000 kgs capacity
FD 45 = 4500 kgs capacity
FD 50 = 5000 kgs capacity
Lift Heights
3 metres to 7 metres
6.0 tonnes - 8.0 tonnes range
Diesel models
FD 60 = 6000 kgs capacity
FD 70 = 7000 kgs capacity
FD 80 = 8000 kgs capacity
Lift Heights
3 metres to 7 metres
Models Available - Electric Range
Three Wheel Counterbalance 1.5 tonnes - 1.8 tonnes range
FBT 15 = 1500 kgs capacity
FBT 18 = 1800 kgs capacity
Lift heights
3 metres to 6 metres
Four Wheel Counterbalance 1.5 tonnes - 3.0 tonnes range
FB 15 = 1500 kgs capacity
FB 18 = 1800 kgs capacity
FB 20 = 2000 kgs capacity
FB 25 = 2500 kgs capacity
FB 30 = 3000 kgs capacity
Lift heights
3 metres to 7 metres